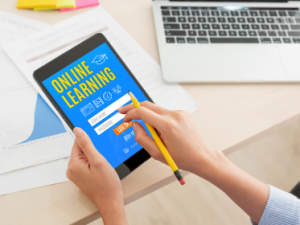 When we reflect on e-learning growth globally it really is quite remarkable. Not many industries can boast a 900% growth rate in 23 years. However, as you'd expect this is now slowing considerably and we're expecting around 16% growth in the next 6 years. However, the statistics still look very impressive:
In 2022 the global e-learning market size was valued at GBP 143.5 billion, or USD 174.4 billion, and this is expected to grow to GBP 340.5 billion, or USD 414 billion, by 20291.
A substantial consumer of e-learning is the global corporate market, which alone is forecasted to be worth GBP 41 billion, or USD 50 billion, by 20262. In 1995 only 4% of corporations used e-learning and now it's over 90%.
In September 2023, approximately 40% of Fortune 500 companies use e-learning for training3
In 2023, CIPD reported that 75% of organisations are using learning technologies8
Over 80% of US employers have used online learning to train staff3.
The global mobile learning market size was valued at over GBP 45 billion in 2022 and is expected to grow by 28.5% (CAGR) this year.
There are many factors that contribute to e-learning growth, including online learning in the UK and global workplace, which is down to positive outcomes and the rapid digital transformation of the workplace. These positive factors on the workplace include:
Return on Investment (ROI): The ROI for online learning can be substantial, but it depends on various factors, including the quality of the training being delivered, the specific goals of the training, and the organisation's ability to measure and realise the benefits. Studies have shown that e-learning can provide a significant ROI, with average returns ranging from 30% to 80%.
It's essential to note that calculating the ROI (return on investment) for e-learning can be complex, as it involves comparing the costs of developing and implementing e-learning with the benefits realised over time. To calculate ROI, organisations should consider factors such as initial development costs, ongoing maintenance costs, employee time spent on training, improvements in performance, and cost savings.
Increased Productivity: Well-designed e-learning programs can lead to more efficient training, allowing employees to acquire new skills or knowledge in less time, which, in turn, can boost productivity.
Reduction in Training Time: Self-paced e-learning allows employees to learn at their own speed, potentially reducing the time spent away from productive work compared to traditional classroom training. Brandon Hall found that online training requires 40 to 60 % less employee time than classroom training!10
Scalability: E-learning can be easily scaled to accommodate a growing workforce without incurring significant additional costs. This scalability is crucial for organisations experiencing growth.
Accessibility and Convenience: e-learning provides employees with the flexibility to access training at their own convenience. This is particularly beneficial for remote and distributed workforces, as they can learn from anywhere and at any time.
Customisation: eLearning platforms allow for the creation of personalised learning paths and content, ensuring that employees receive the training that is most relevant to their roles and skill levels.
Consistency: e-learning ensures a standardised training experience for all employees. With pre-recorded content, everyone receives the same information and training materials, reducing discrepancies in knowledge and skills.
Gamification and Engagement: e-learning can incorporate gamification elements, quizzes, interactive modules, and other engaging techniques that make learning more enjoyable and effective.
Continuous Learning: e-learning encourages a culture of continuous learning within organizations, as employees can access training resources as needed to keep up with evolving industry trends and technologies.
Improved Knowledge Retention: Interactive and engaging e-learning modules can lead to better knowledge retention compared to traditional lecture-style training, which can translate into improved on-the-job performance.
Reduced Employee Turnover: Investing in employee development through e-learning can enhance job satisfaction and reduce turnover, which can lead to cost savings related to recruitment and onboarding.
Access to Global Talent: E-learning enables organisations to access and develop talent from around the world, potentially leading to a more skilled and diverse workforce.
Compliance and Certification: E-learning is valuable for compliance training and certifications, where keeping employees up to date on regulations and industry standards is critical to avoiding fines and legal issues.
Analytics and Data: E-learning platforms provide data and analytics, which can help organizations assess the effectiveness of training, identify areas for improvement, and make data-driven decisions to enhance learning programs.
Improved Employee Performance: When employees receive relevant and effective e-learning, their skills and knowledge can be directly applied to their job tasks, leading to better job performance and potentially increasing revenue.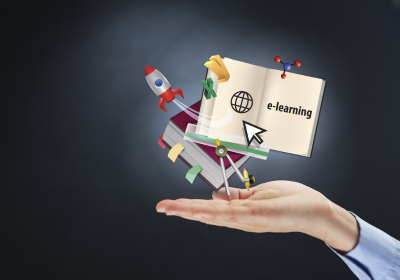 The growth in e-learning in the workplace has also been helped by well-respected organisations such as CIPD, the professional body for HR and people development, saying 'Although some people may prefer face-to-face learning, evidence suggests virtual classrooms can be just as successful if they are well designed and delivered'8.
CIPHR, the Human Resources Software company, says 'e-learning is one of the most effective tools for creating a skilled, diverse and inclusive workforce'5.
The CIPD 2023 Learning at Work Survey reported that there is a continued decline in face to face learning and there is still continued investment in digital learning, although slower than in previous years9. 25% of organisations deliver training entirely online or digitally, with a further 50% using some form of online or digital learning. Webinars are the most popular technology solution for delivering learning with 41% currently using the software. This only just exceeds 40% of organisations that are using online training developed in-house and 26% using off-the shelf online courses.
It is without doubt the increase in use of elearning that has led to the development of the vast array of technology solutions for learning, such as webinar software, social learning platforms and learning management systems (LMS). Did you know that the first LMS was launched in 1990 by SoftArc? This seems a very long time ago, especially when we now consider that in the context of technology solutions for learning we are talking about virtual reality, chatbots and augmented reality. The CIPD 2023 Learning at Work Survey reported that these solutions are being used by 11% of organisations, with 12% intending to implement them in the coming year. So we are going to be hearing a lot more about their implementation in learning and development in the coming years.
But we can't ignore the fact that there are also negative factors that prevent some employers from getting started with online learning or growing its use. It is thought by some employers that moving to online learning is just a cost saving exercise, as there is plenty of evidence to show the cost efficiencies of online learning. However, we know it's benefits are wide ranging.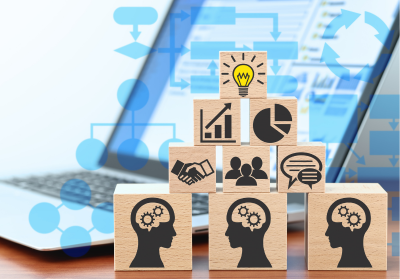 I was at a business network earlier this year and a mature business owner noticed that I was representing the e-learning Marketplace. His opening line to me was 'I can't abide e-learning. Reading pages and pages of text on screen or clicking through a presentation, it's so boring and I doubt you learn anything'. Of course, he was absolutely correct, and 20 years ago much of the e-learning was face to face training resources that had just been put online, resulting in a very poor learning experience.
Thankfully things have changed, and the majority of online learning is interactive and engaging, with rich video and, or audio content that checks understanding and provides a breadth of accessibility configuration. But that does still leave some online learning that doesn't deserve to see the light of day.
Other feedback from employers questioning the effectiveness of e-learning is that it doesn't sufficiently check that the knowledge gained can be effectively put into practice. This can be the result of the learner not being fully aware of the objectives for completing their training, so they aren't able to identify how the training relates to their work. It also helps if online training is delivered in the context of real work scenarios, and once completed the learner is supported in the workplace to apply their knowledge to practical applications.
The Research Institute of America found that e-learning increases retention rates from 25% to 60%, while retention rates of face-to-face training are very low in comparison: 8% to 10%11, so there are considerable benefits in using e-learning in the workplace, as long as it's strategically planned, well designed and delivered in a supportive environment. For more information on planning and delivering quality online learning take a look at:
Free Training Resources: Training Needs Analysis, CPD Plan and CPD Record
Your Guide to Writing Effective Learning Objectives
How to Effectively Evaluate e-Learning
Choosing the Right Technology Solution for HR and Learning and Development in SMEs
The multi award winning eLearning Marketplace is the UK's largest provider of immediate access online training with customers in over 50 countries. Courses range from compliance and professional development to vocational qualifications up to Level 7. We work with subject matter experts and large e-learning publishers to bring our customers a unique catalogue of over 3500 online courses with a price match guarantee. Customers have free private use of cloud based software to track, manage and evidence staff training, allocate licences to users and run sophisticated reporting.
Not all courses are on the website so if you can't find what you are looking for please do get in touch: 0844 854 9218
1 https://finance.yahoo.com/news/e-learning-market-reach-usd-120300196.html?guccounter=1&guce_referrer=aHR0cHM6Ly93d3cuZ29vZ2xlLmNvbS8&guce_referrer_sig=AQAAAJBlDGDZbML5SUEv6zVrQ_PJc50yxmtKOt5WKhhsaeDO7f_YV2oiz8gyZl94KElamqbbfCQ1SFcUvQYaNy8dFgBfBhrFy2wZjGEETfW155SFmW-G2HZIFCJ80in6TnpGyFz0bAc_55AAGLVwI46BgaeVfL_R_6Dzwl2BXqVQtJg
2 https://helpdesk.helplama.com/elearning-statistics/#:~:text=90%25%20of%20corporations%20now%20use,9.1%25%2C%20reaching%20%24336.98%20billion.
3. https://lawpilots.com/en/blog/elearning/e-learning-at-work/#:~:text=eLearning%20statistics%20and%20data%202021,beyond%20universities%20such%20as%20Harvard.
4. https://www.ciphr.com/advice/advantages-elearning-at-work/
5. https://www.thebusinessresearchcompany.com/report/mobile-learning-global-market-report#:~:text=The%20global%20mobile%20learning%20market%20size%20will%20grow%20from%20%2453.94,least%20in%20the%20short%20term
8. https://www.cipd.org/uk/knowledge/evidence-reviews/effective-virtual-classrooms/#:~:text=Although%20some%20people%20may%20prefer,are%20well%20designed%20and%20delivered. 9.https://www.cipd.org/globalassets/media/knowledge/knowledge-hub/reports/2023-pdfs/2023-learning-at-work-survey-report-8378.pdf
10. https://www.elucidat.com/blog/online-learning-vs-face-to-face-learning/#:~:text=Brandon%20Hall%20found%20that%20online,employee%20time%20than%20classroom%20training!
11.https://www.shiftelearning.com/blog/bid/301248/15-facts-and-stats-that-reveal-the-power-of-elearning