Testimonials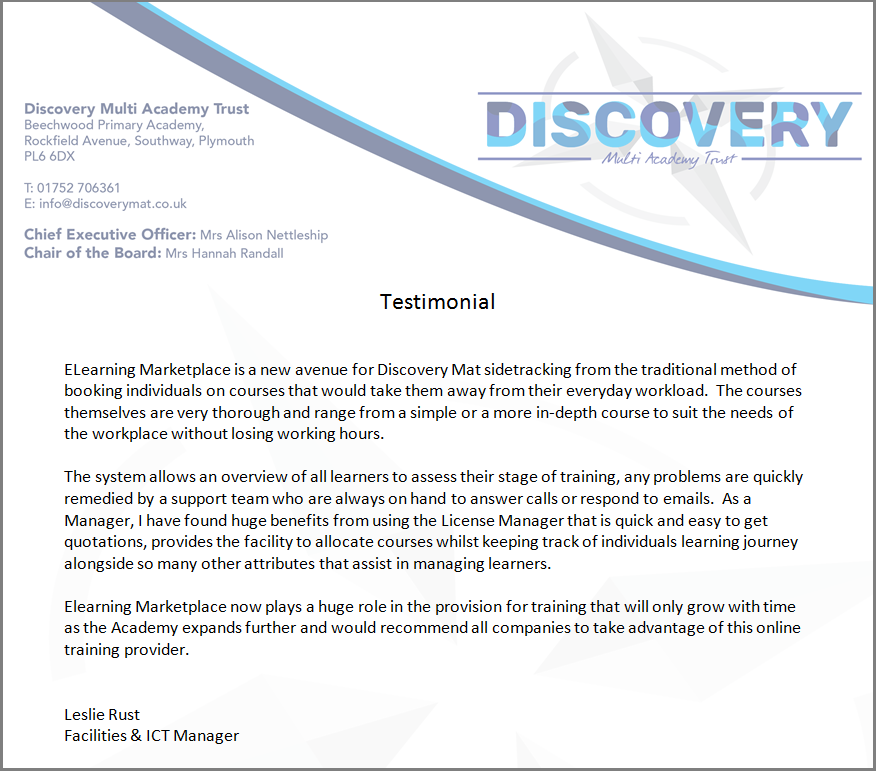 "Rely Care Agency have been using eLearning Marketplace since about January of this year. We are very happy with the quality of training courses that are on offer and the help that the staff have given us along the way. All the staff that I have been in contact with are polite and helpful and go out of their way to assist our staff with any areas of concern with a course they are studying.
I would recommend this company for its fast efficient service and friendly, professional staff – thanks for all you've done to help us with our training needs so far – we at Rely Care look forward to working with you in the future".
Liaison Consultant, Rely Care
"We partnered with the Elearning Marketplace in 2013 and have been delighted with our working relationship. Since joining, we have benefitted from steady sales of our interactive health and safety online courses both as single and multiple users licences. The Elearning Marketplace team always handle negotiations, sales and site licence agreements in a very professional and helpful manner, which has secured valuable revenue for us.  We would have no hesitation in recommending the Elearning Marketplace to both suppliers and buyers of e-learning who are looking for a wide range of products supported by excellent customer service."
Sales Director, First Health and Safety
"Recently here at The Number 4 Group we began using Elearning Marketplace to purchase manual handling online training for groups of users. Straight away from the initial booking up till after the learner's completed their training, we received outstanding service and support with any queries we had. We will be using Elearning Marketplace's services again and would recommend them to anyone!"
Assistant Quality Co-Ordinator, The Number 4 Group
Dealings with the eLearning Marketplace have been of the highest calibre, free from hype and pressure

"Learning and development training needs vary from organisation to organisation. However, it's likely that if decision-makers adopted eLearning Marketplace without bother of evaluating (alleged) comparative offerings, they'd not only save significant time and effort, but also gain desired outcomes via an learning management system (LMS) that could more than pay for itself via residual course reseller income streams.
Having evaluated dozens of options – the process indeed a trial in every sense – our best advice for those in search of a worthy provider is to be mindful of 'caveat emptor': let the buyer beware.
After months of frustration, it was a relief to make contact with Carolyn and Sonya at eLearning Marketplace. Dealings have been of the highest calibre, free from hype and pressure. Nothing has been too much trouble, the team noting preferences, ensuring that everything is as we would wish, balancing course producer stipulations on duration of demo access with an extended trial of the LMS.
In particular, there's a sense that values mean something. Carolyn was open in transparency from the outset, sharing experiences and advising without an agenda: it's these things that help form true collaborative partnerships beyond the usual supplier/customer dynamic. It's actually a sad indictment of the e-learning industry that reporting a rare instance of even just being listened to, without encountering a 'tick-box-only-need apply' stance, is so refreshing!
Broadly, the LMS feature-set is as comprehensive as those of premium offerings. In fact, only two contenders emerged, the other a corporate-level 'nice-to-have' above our 'need-to-stick-to' budget even with gracious pricing for our charity.
Pros/Liked
very pleasing custom user interface

uncluttered navigation with simple prompts

pages load swiftly and easily, no issues via any browser including use of 'Back' button (Chrome/Safari/Firefox on OSX, Safari on iPad, Edge on Windows 10)

engaging courses progressed smoothly throughout

full reporting options

legacy import capability (some may regard SCORM as old-school, yet cost-effective in preserving investment in prior content-authoring)

multiple admin-users and learners without ridiculously restrictive tiered-pricing

affordable reseller packages with sensible commission structure (including option for fully-hosted site cart)
Cons/Didn't like
We have no hesitation in recommending the eLearning Marketplace and, on behalf of our beneficiaries, thank you for excellent support: a superb example of a business to be proud of.
  Chief Executive
"Carolyn Lewis and her team have been fantastically supportive and helped us with a wealth of guidance and elearning expertise. We have no hesitation in recommending eLearning Marketplace as a one-stop provider of best-of-breed training solutions".
Director, Equality Matters
"We have been working with the eLearning Marketplace for a couple of years now and have been delighted with the sales they have generated for us, and the service they have provided. Customers receive excellent advice and information on our courses to enable them to make an informed decision about their purchase. I would not hesitate to recommend the eLearning Marketplace to sellers and buyers of e-learning".
Director, AF Associates
"Excellent service. The advisor we spoke to was very helpful and knowledgable. Would certainly recommend them to others and will be using again".
Director, Robert Charles & Sons Ltd
"Went above and beyond what was expected, I would recommend the Elearning Marketplace".
KB, 1st Callcom
"The eLearning Marketplace is our first port of call when we are searching for and buying e-learning materials".
Trustee, Time to Talk
"So easy, so quick and exactly what I required. Very impressed and will be using again in the future for sure".
IT Manager, Gekko Ltd
"E-Learning Marketplace were very helpful when we needed some e-learning content. They were pleasant to work with and understood what we were trying to achieve and did their best to make it happen. I would work with them again".
Learning and Development Manager, Certitude
"As a new customer of eLearning Marketplace I have found their service to be very quick and efficient providing excellent customer service and support".
Training Administration Officer, Defence Medical Welfare Service
"We have found eLearning Marketplace to be very helpful with great customer service. Using the online courses has helped engage our learners and gives them the knowledge they need in a more interactive way".
Curriculum Manager, Total People
"I will no longer be managing training at MSI, its been a pleasure working with you. The service I have received from you has been outstanding".
Office and Facilities Manager, MSI Group Ltd

"Just got off the phone to Sonya from @elearningmarketplace.  Sonya responded to my online enquiry within the hour and quickly understood the needs of my client.  @elearningmarkplace also offer an online portal so one controller can manage the documents, add and amend operatives and download and print certificates! They cover a multitude of industries too. 5 star service, I highly recommend!"
Owner, The Diamond PA

"Yet to finish my course, but from Sonya who I spoke to first and now working with Steve my remote tutor, the service I have received to date has been impeccable".
Customer, Mandy Parker
"I have found this site excellent for the choice of courses and all within my budget. I would recommend anyone looking for a course that you can do in your own time. The support from the tutors is brill always there to help when you have problems".
For further customer testimonials please see our Trusted Shops reviews.