Testimonials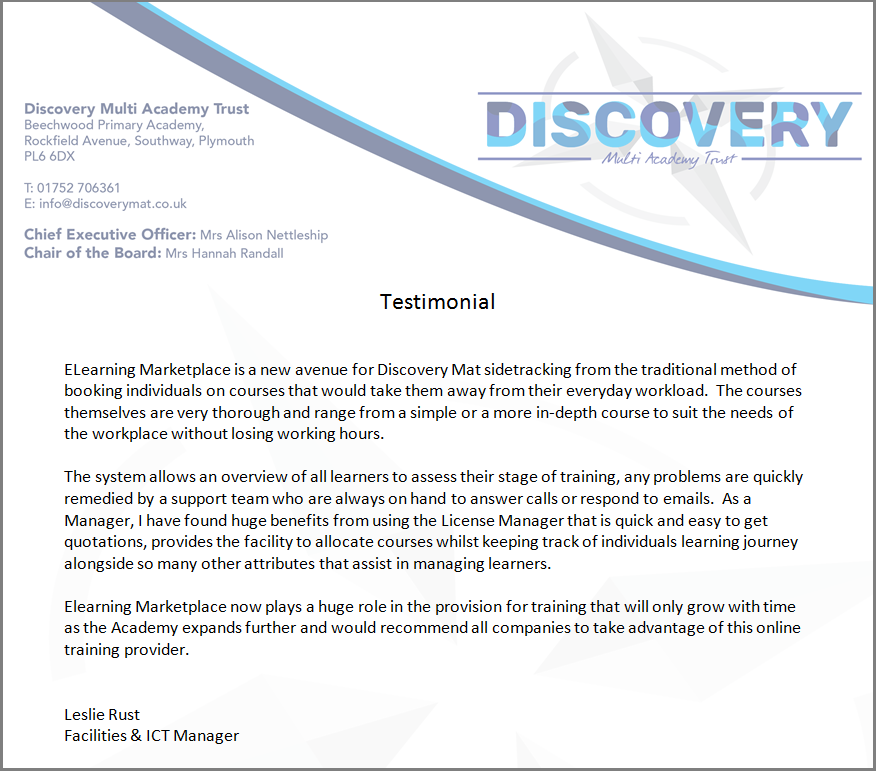 "Rely Care Agency have been using eLearning Marketplace since about January of this year. We are very happy with the quality of training courses that are on offer and the help that the staff have given us along the way. All the staff that I have been in contact with are polite and helpful and go out of their way to assist our staff with any areas of concern with a course they are studying.
I would recommend this company for its fast efficient service and friendly, professional staff – thanks for all you've done to help us with our training needs so far – we at Rely Care look forward to working with you in the future".
Lynne Evans, Rely Care
"We partnered with the Elearning Marketplace in 2013 and have been delighted with our working relationship. Since joining, we have benefitted from steady sales of our interactive health and safety online courses both as single and multiple users licences. The Elearning Marketplace team always handle negotiations, sales and site licence agreements in a very professional and helpful manner, which has secured valuable revenue for us.  We would have no hesitation in recommending the Elearning Marketplace to both suppliers and buyers of e-learning who are looking for a wide range of products supported by excellent customer service."
Steve Perks, Sales Director, First Health and Safety
"Recently here at The Number 4 Group we began using Elearning Marketplace to purchase manual handling online training for groups of users. Straight away from the initial booking up till after the learner's completed their training, we received outstanding service and support with any queries we had. We will be using Elearning Marketplace's services again and would recommend them to anyone!"
Harriet Kilgallon-James, Assistant Quality Co-Ordinator, The Number 4 Group
"Carolyn Lewis and her team have been fantastically supportive and helped us with a wealth of guidance and elearning expertise. We have no hesitation in recommending Elearning Marketplace as a one-stop provider of best-of-breed training solutions".

Chris Pearson, Equality Matters
"We have been working with the eLearning Marketplace for a couple of years now and have been delighted with the sales they have generated for us, and the service they have provided. Customers receive excellent advice and information on our courses to enable them to make an informed decision about their purchase. I would not hesitate to recommend the eLearning Marketplace to sellers and buyers of e-learning".
Ruth Bell, Director, AF Associates
"Excellent service. The advisor we spoke to was very helpful and knowledgable. Would certainly recommend them to others and will be using again".
Robert Charles, Director, Robert Charles & Sons Ltd
"Went above and beyond what was expected, I would recommend the Elearning Marketplace".
Karen Barker, 1st Callcom
"The eLearning Marketplace is our first port of call when we are searching for and buying e-learning materials".
Janice Powell, Trustee, Time to Talk
"So easy, so quick and exactly what I required. Very impressed and will be using again in the future for sure".
Toby Bartlett, IT Manager, Gekko Ltd
"E-Learning Marketplace were very helpful when we needed some e-learning content. They were pleasant to work with and understood what we were trying to achieve and did their best to make it happen. I would work with them again".
Caroline Dyment, Learning and Development Manager, Certitude
"As a new customer of eLearning Marketplace I have found their service to be very quick and efficient providing excellent customer service and support".
Julie Butt, Training Administration Officer, Defence Medical Welfare Service
For further customer testimonials please see our Trusted Shops reviews.