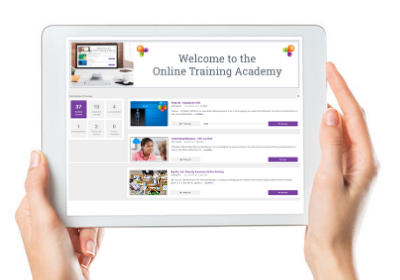 Certainly the growth in smartphone use is helping to drive the global expansion of mobile learning. In China, India and the US smartphone use exceeds 100 million and worldwide there are more than 3.5 billion users, which is approximately 45% of the global population. It is expected that by 2023 this will increase to 7.33 billion users.
In developing countries few people have owned PCs, but now do own a smartphone, making learning much more accessible to millions of people. Nigeria is a good example, as you'll see from the chart below, the market share of mobiles compared with desktops is considerable. This difference will widen as smartphone users grow by the predicted 7 million users per year until 2025, from the current number of approximately 36 million. The African e-learning market was valued at US$792 million in 2018, with Nigeria being one of the regions where e-learning is gaining rapid growth due to improved access.
Source: StatCounter Global Stats – Platform Comparison Market Share
Currently the Covid 19 pandemic is fueling the growth in online learning with more and more people accessing their learning via a mobile device. But prior to this, more and more employers have been implementing a BYOD, (Bring Your Own Device) strategy, enabling employees to use their own mobile devices for work. Connectivity has been improving across the world providing people with the opportunity to access training on their mobile phones wherever they are. This increase in mobile learning is driving the production of short, bite sized chunks of learning, that are mobile responsive with video, interactivity and animation. It is engaging and easily consumed when time is short or when 'just in time' training is required.
It is really important that courses that are labelled as mobile responsive truly are and that learners can easily navigate their way through a course on their tablet or smart phone. You may be surprised how many courses say that they are mobile responsive but actually are just 'mobile friendly'. Meaning that they are accessible on a smartphone but with pinching and scrolling left and right to view the page contents, which isn't being truly mobile responsive. At eLearning Marketplace all e-learning publishers that apply to partner with us go through a rigorous due diligence process. This involves sampling courses to ensure that they meet our quality standards, which includes looking at the content, instructional design and mobile responsiveness. This enables us to meet the growing demand worldwide for mobile responsive courses. But, one size does not fit all, and customers choose a variety of differently designed courses and have different requirements when it comes to the devices that learners will be using, which is why we like to offer customers a wide choice of courses.
Driven by the Covid pandemic, schools, universities, private and public organisations and even the World Health Authority have all increased, or implemented online learning to deliver training. However, just putting existing text based resources online does not provide a quality learning experience for learners, as many of these organisations are finding out. In particular, pages and pages of text are very difficult to consume on a smartphone and results in a very boring and frustrating learning experience. Adding to the frustration can be the platform which organisations are using to deliver their online training. The mobile responsiveness of the platform and the courses go hand in hand; one without the other just doesn't work.
Like everything there are some downsides to mobile learning. In particular the large variety of mobile device brands and models, and the variety of browsers and security settings, all of which can cause problems when running differently published content. Having said this mobile learning market is already exceeding US$20 billion and is set to grow very rapidly over the next 6 years to a predicted US$55 billion!
Author: Carolyn Lewis, Managing Director
The multi award winning eLearning Marketplace is the UK's largest provider of immediate access online training with customers in over 50 countries. Courses range from compliance and professional development to vocational qualifications up to Level 7. We work with subject matter experts and large e-learning publishers to bring our customers a unique catalogue of over 2000 online courses with a price match guarantee. Customers have free private use of cloud based software to track, manage and evidence staff training, allocate licences to users and run sophisticated reporting.
Not all courses are on the website so if you can't find what you are looking for please do get in touch: 0844 854 9218
Sources:
https://www.statista.com/statistics/330695/number-of-smartphone-users-worldwide/
https://www.bankmycell.com/blog/how-many-phones-are-in-the-world
https://gs.statcounter.com/platform-market-share/desktop-mobile-tablet/nigeria
https://www.gminsights.com/industry-analysis/mobile-learning-market