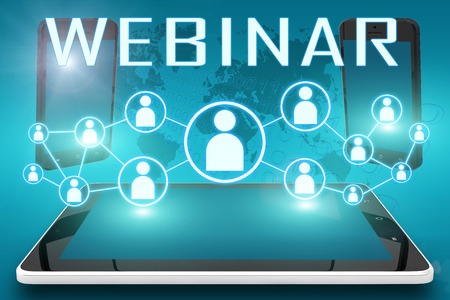 Webinar software provides a great opportunity to deliver training to geographically dispersed learners that is effective, flexible and cost effective. Despite this many trainers are yet to engage with webinars as a tool to deliver virtual learning. For those who are planning to add webinars to their delivery methods it can be rather daunting when presented with so many suppliers and different options.
As with all effective training, planning and preparation are key to success. There are also a number of things that need consideration prior to jumping in with your choice of webinar software, which can save you a lot of time and money.
Tips for effective webinars



Tip 1: Decide what your objectives are for delivering training virtually.
The most important and obvious ones are to provide learners with an engaging learning experience and for them to achieve the learning objectives. To achieve an engaging session which learners will learn from you need to consider the type of content, how it will be best delivered and what devices learners will be using. You might also want to record your webinars so that other learners can view them at a later date.
For example do you want to be able to:
deliver information to learners using a PowerPoint presentations?
engage learners in discussion?
ask them to interact with the screen?
encourage learners to ask or answer questions?
show resources on your computer?
ask learners to select an answer from multiple options?
take learners out of the webinar to another online portal to complete an activity?
In addition there are the wider organisational objectives such as do you require webinar management as part of the functionality. For example Outlook integration, email invites, automated registration, recording attendance, participation statistics, email reminders and evaluation surveys?
Tip 2: Try out a variety of free webinar software before buying into one particular supplier.
Many webinar applications offer a free starter account for small attendee numbers and its worthwhile trying out a few to get the feel for usability, functionality and the learner experience. This will give you a better idea of the possibilities for fulfilling your objectives.
You may well find when you try a few free ones that you change your view on what functionality is right for your organisation.
Try and get as many members of staff as possible to try out the roles of organiser, presenter and attendee. It is really important that the software has good usability and feedback on this should come from those delivering and those attending.
Tip 3: Decide on the webinar functionality you require to meet your objectives
You may be surprised at the range of functionality that can be offered using webinar applications. Wikipedia has a comprehensive Comparison of Web Conferencing Software but it can be rather daunting. This is why we suggest starting with your objectives and sourcing the functionality to meet those objectives, rather than putting the technology first.
Tip 4: Identify the skills required to deliver effective webinars and up-skill staff
Don't expect staff to be able to login and deliver a webinar that meets all your objectives without any training. Delivering online requires practice with a cycle of feedback and improvement. In particular feedback from attendees is vital to understand what makes a webinar engaging and effective.
Once you have established the knowledge and skills that staff will require, draw up a development plan and follow-up with on-going evaluation of delivery.
Tip 5: Consider group size
One primary consideration might be cost and generally speaking the larger the number of attendees at your webinars, the more you will pay, but the less functionality you will need. However, from a teachers perspective managing and delivering the session effectively is the most important thing and this is much harder with big groups.
Having decided what your objectives are you will be able to identify the maximum number of learners joining a session. For example, if you want learners to be able to contribute with audio and interact with the screen using the whiteboard you won't want large groups as this is not manageable. However, if your objective is to relay as much information as possible using a presentation with little interaction required from the attendees then your group size can be multiple hundreds.
Tip 6: Put together a procedure, which includes a checklist, for staff delivering webinars to ensure quality and consistency of delivery.
Tip 7: Evaluate all webinars using a learner survey and use the information to continually improve and develop webinar delivery.
Effective Practice for Engaging Small Groups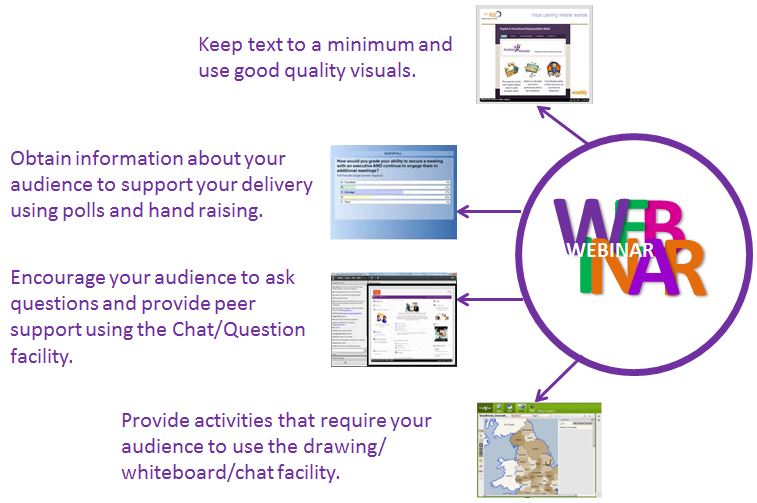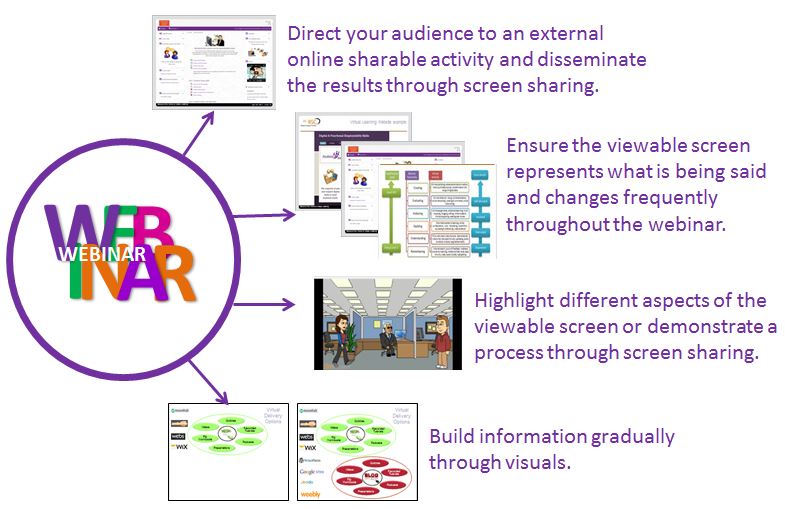 In summary, webinar software has so much to offer the training provider who wants to establish a flexible and cost effective approach to blended delivery for learners and employers.