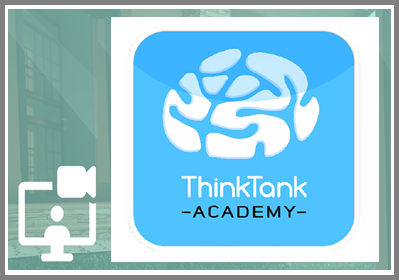 eLearning Marketplace are delighted to announce a number of new Virtual Classroom online courses from our partner Think Tank Academy. These new Virtual Classroom courses are aimed at practitioners working in the child health and social care sector.
Think Tank Academy are experts in children and young people's care, they recognise the barriers in staff development and offer stimulating courses for practitioners working in the looked after children's sector. Their courses are innovative and engaging, and their interactive format vastly improves the retention of knowledge, bringing revolutionary change to the care sector.
Think Tank Academy have been accredited the Badge of Excellence by Open Awards, a nationally recognised Awarding Organisation approved and regulated by Ofqual and QAA. Open Awards Badge of Excellence is the quality assurance mark that recognises excellent training, development and learning provision and meaningful outcomes.
What is a Virtual Classroom Course?
Virtual Classroom training offers a blended learning approach, combining thought provoking classroom conversations with content that meets regulatory compliance and raises industry standards.
This delivery method of training is designed to support all learning styles and includes visual and interactive resources supported through workbooks and trainer facilitated discussions. Auditory and theoretical learners will benefit from direct questions and research activities, stretching and challenging them to reach their full potential.
Join a virtual class where you can ask questions, be part of discussions, complete a learning pack and fully interact and engage with your trainer LIVE online.
Fully Interactive Zoom meetings
Real life classroom experience in a virtual environment
Supportive and collaborative engagement
Real time adaptable teaching methods to suit multiple learning needs
Opportunity to engage in reflective practice
The Virtual Classroom is delivered live by a qualified lecturer with a background in:
Health and Social Care
Children and Families Social Work
Residential Children's Homes
Foster Care
Benefits of Virtual Classroom Courses
Developed by care professionals, for care professionals, Virtual Classroom courses recognise the challenges in staff development and the importance of high-quality, cost-effective training.
Accessible anywhere
Time-efficient
Cost-effective
Multi-platform
Fully accrediated by Open Awards
Activity and reflective practice workbooks
Embedded real-life scenarios
Hosted by a live trainer
Compliant with current legislation
Interactive, engagine and innovative
Trainng style adapted to learning needs
Achieved in bite size chunks
Virtual Classroom Course Titles include;
We have just launched the following Essential Level Virtual Classroom Courses:
This course aims to support learners to understand the homes procedures including recording.
This course aims to raise awareness on the differences between Child Sexual Exploitation and other forms of abuse.
Designed to aid understanding and awareness of Professional Boundaries, it will introduce reflective practice and the importance of this to continually develop the learners approach and work practice.
Learners will be supported to understand the importance of their role in preventing and proactively distracting children from going missing from care.
This course aims to provide learners with an understanding and awareness of attachment and encourages each learner to reflect on their own personal attachments and their practice in relation to working with attachment disorders.