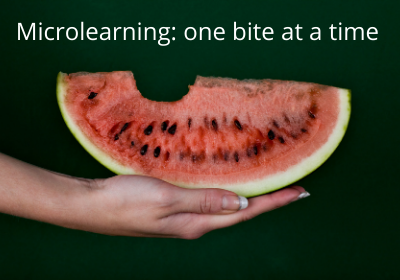 For centuries microlearning has been around; learning small chunks of information, for instance using flash cards, which they used in 1800s. It was with the introduction of e-learning in the 1990s that microlearning really took on a new meaning and became recognised as a term used in e-learning, involving short pieces of content, ideally accessed on demand to meet an immediate training need.
For many years' articles on learning trends for the coming year have listed microlearning, or bite sized learning as it is also known, and certainly there has been a massive rise in its production and use. It has been endorsed by many influential people in learning and development, and big-name brands, as the answer to a range of training challenges. Many e-learning companies' entire portfolio of courses is now microlearning. Here at eLearning Marketplace we too offer a number of different microlearning course bundles. But is microlearning the answer to all training woes? Does it help businesses achieve their strategic objectives?
There is never a truer statement than 'there is no one-size-fits-all' as every organisation has different objectives, uses online training to meet different needs and provides training to staff that are all individuals. That is why when a customer approaches us about their training requirements there are a number of details we like to ascertain before recommending courses, e.g. topics, instructional design, mobile responsiveness. But there's one really crucial conversation around the depth of content, as there's a vast difference between a one-minute course, yes there really are courses that are one minute long, and what some people would call a 'short course' of 2 hours. Of course, there are no set criteria for the level or depth of course content and its duration, but we can apply a general guide based on the objective of the training. Options might be:
Microlearning, approximately 3 to 5 minutes duration
Meet a member of staff's immediate training requirement, 'just in time learning', often soft skills e.g. active listening, customer Service tips.

A series of microlearning modules, approximately 30 minutes to several hours
Gradually build knowledge of a topic over a period of time, e.g. learning a language, or building your sales skills

A course approximately 15 to 30 minutes duration
Provide an introductory level of knowledge of a topic, e.g. awareness of equality and diversity

A course approximately 1 to 4 hours duration
Provide a more in-depth level of knowledge of a topic, e.g. Level 2 in safeguarding

A course approximately 5 hours and over
Provide an in-depth level of knowledge of a topic, possibly meeting the requirements of a set of accredited standards, e.g. management of food safety

Approximately 100 hours and over
Achieve a professional qualification, e.g. Level 7 CMI Strategic Management Leadership Qualification
An e-learning developer starts the process of publishing an online course by creating an instructional design for the course. They determine the needs of the learner, the objective/s of the training and the features, such as video or interaction, that will assist in the engagement and acquisition of knowledge. A 3 minute microlearn course is going to deliver short, very focussed training in line with a single, simple learning objective. Build those learning objectives up, a bit like learning a language or a musical instrument, and over time the learner will start to become confident and proficient. In this context, in isolation the 3 minute microlearning has little value, but if built into a series of small chunks of learning it can be extremely engaging and effective at achieving more in-depth learning objectives. This is probably why the majority of microlearning courses cover workplace soft skills, rather than compliance or industry specific training.
An employer trains their staff for numerous reasons, but it is always to develop their knowledge and skills to undertake their role as effectively as possible and therefore improve performance. All employees can benefit from developing their soft skills through a series of microlearning courses. In a previous article I wrote, Do Soft Skills Make Businesses More Profitable and the answer is yes. So, the answer to the question 'can microlearning align to business objectives?' has to be 'yes'. However, if referring to a standalone microlearn course, or the undertaking of a random selection of courses with no planned more robust learning objectives, then the answer is 'no'. Employers shouldn't be influenced by the trend in microlearning, believing that if they purchase a subscription for all staff to access a large catalogue of microlearn courses, they will meet their organisation's training needs. Microlearning should be viewed as one learning tool that alongside more robust training, whether online or face to face, can meet the strategic objectives of the organisation.
The multi award winning eLearning Marketplace is the UK's largest provider of immediate access online training with customers in over 50 countries. Courses range from compliance and professional development to vocational qualifications up to Level 7. We work with subject matter experts and large e-learning publishers to bring our customers a unique catalogue of over 2000 online courses with a price match guarantee. Customers have free private use of cloud based software to track, manage and evidence staff training, allocate licences to users and run sophisticated reporting.
Not all courses are on the website so if you can't find what you are looking for please do get in touch: 0844 854 9218
Source:
https://blog.wranx.com/how-when-and-why-did-microlearning-become-so-popular