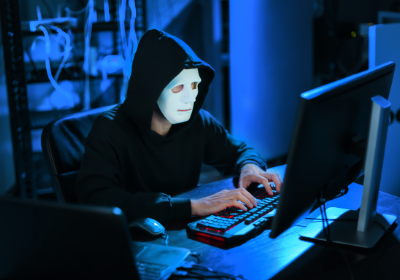 If there's money to be made in a particular niche, you can count on the eventual appearance of scammers — and the e-learning industry is no exception. Disreputable sellers have always been able to find and sell stolen products, but they were limited by availability and the risks involved. Fraudulently selling digital products, on the other hand, is extremely easy.
The only thing that tends to hold scammers back is file size (services like Netflix are expensive to run, though they've still been hit heavily by piracy) and visibility (big media companies have teams that scour the internet for copyright infringement). e-Learning courses are relatively small, and legitimate sellers don't have massive legal teams to fight their battles.
Due to this, students and small businesses alike are at risk online when purchasing online training and they need to take action to protect themselves. In this post, we're going to elaborate upon the situation and offer some core tips. Let's get started.
Illegitimate e-learning sites can be poorly secured
Before we even get to the broader problem of online course materials being illegally sold, we need to consider that using illegitimate e-learning sites is a general cybersecurity hazard. Sellers who are willing to sell materials they didn't create or licence are only interested in profit, and won't care in the slightest if their online stores (all of which will be temporary) are poorly secured.
People who even visit websites like this should take precautions before they do so: they should have updated antivirus protection, know how to recognise misleading CTAs (calls to action), and ideally have secured connections (free VPN services are available, so there's no excuse). But even if they're willing to put up with those risks, they shouldn't fall for the scams.
Devil's advocacy might assert that it's worth it for buyers: that they don't need to question low prices because they're getting good value. This is incorrect. In actuality, it's entirely the wrong way of looking at the situation, as we'll cover in the next section.
Scams impact online course quality in various ways
What those who take advantage of fraudulent sales don't appreciate is that the existence of scam sellers damages the quality of available online courses. Why? Well, there are three big reasons:
Scam sales reduce the financial incentive to produce great materials. The more money great course-creators can make from their work, the more motivated they will be to focus on that effort. Someone who puts a lot of energy into creating an online course that gets pirated and sold illegally probably won't be motivated to do that again. Over time, this leads to fewer high-quality courses being created.
Being able to engage with the creator is a huge part of a good course. The quality of an online course doesn't solely lie in the materials, because there's often more to be gained through asking questions. Creators remain associated with legitimate sales of their online courses, and will often engage with the buyers to help them get the most value from their materials. That invaluable experience is lost through illegitimate sales.
Great online course platforms make learning easier and more effective. How you access an online course is as important as the course itself. Secure, managed online course platforms don't just send you the files and leave you to figure things out; they provide you with ways to stop and start your training, and resume where you left off, get support when you need it, and move on to additional courses when you're ready. Investing in a learning ecosystem is the right way to go.
How to safely buy e-learning courses
Now that we've covered why it's so risky and damaging to buy e-learning courses from illegitimate sellers, we need to consider how you can proceed safely. In truth, you need only do the following:
Pay close attention to site accreditations. There are various ways in which legitimate sellers can get their businesses accredited, with the Buy with Confidence accreditation from UK Trading Standards being one option and the one that eLearning Marketplace is currently going through. It's a rigorous quality audit of a company's policies and processes to ensure they are operating fairly and legally. Trust badges of many kinds can attest to things like website security and payment-process security. Prospecting learners in need of reassurance can look out for these trust indicators.
Go by recommendations from trustworthy experts. You don't need to start with a Google search. You can instead pick out some industry experts and follow their direct recommendations. You can go by an e-learning marketplace's recommendations, since a reliable marketplace will never allow any illegitimate sellers to use it.
Check with course creators if in doubt. If you happen upon a course listing that seems legitimate but find that something gives you pause, it's best to look for the course creator to ask them if they knew about the listing. That's assuming the listed creator is the actual creator, though, so if you think the identity of the creator has been obscured then you should search for specific course materials to see where else they've been.
In the end, it's best to use your best judgement when looking at e-learning courses. Course creators and legitimate marketplaces deserve your custom, so don't make the mistake of falling for too-good-to-be-true scams.
Author: Elliot Mark, Senior writer at Ecommerce Platforms with a deep curiosity for the changing world of ecommerce.
The multi award winning eLearning Marketplace is the UK's largest provider of immediate access online training with customers in over 50 countries. Courses range from compliance and professional development to vocational qualifications up to Level 7. We work with subject matter experts and large e-learning publishers to bring our customers a unique catalogue of over 2000 online courses with a price match guarantee. Customers have free private use of cloud based software to track, manage and evidence staff training, allocate licences to users and run sophisticated reporting.
Not all courses are on the website so if you can't find what you are looking for please do get in touch: 0844 854 9218