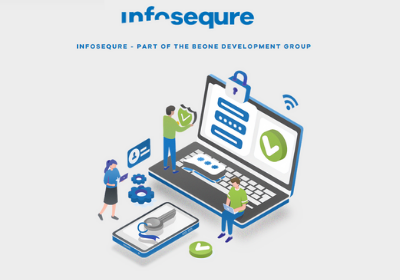 We are delighted to announce our new publishing partner Infosequre.  Infosequre help to navigate the great risks and rewards of the digital world by equipping you and your employees with the best tools to safely play your part in today's digital landscape of cyber and information security.
Infosequre's courses combine realistic situations and risks with immersive storylines and interactive exercises, all designed to keep the attention and cement the knowledge of employees.
We are pleased to be offering 3 of their online cyber and information security courses;
Information Security Awareness Training – Information is used every day: business emails, notes taken at meetings, private financial details, and so on. This course will help you to keep information in your workplace safe. Nowadays, the most important weapon against cybersecurity threats are the people who work with the information every day. They form the first line of defence.
Malware Awareness Training – Uses immersive videos, interactive content, test questions and a conclusion to give you detailed instructions about the topic of malware.
Phishing Awareness Training – Showing you the signs of phishing, how to recognise those signs and how to protect yourself against the dangers. Are you ready to look at the flip side of phishing?
The landscape of cyber and information security is ever changing.  Workplace changes such as more people working from home, hot desking, or even whilst on the move creates further issues and opportunities for cyber threats to occur. A new recent threat often comes from the 'disrupted' employee according to Security Magazine, where the new home office, zoom and the coffee shop worker replace the more formal office 9-5 environment.  Remote workplaces may lack the same protection as in the office, and a study last year found that 57% of IT decision makers believe that remote workers will expose their firm to risks from a data breach (Continuity Central).  Online training can be key in helping employees stay on their guard to help organisations manage their cyber security.
References:
https://www.securitymagazine.com/articles/94893-are-disrupted-employees-a-new-cybersecurity-threat
https://www.continuitycentral.com/index.php/news/technology/5086-over-half-of-organizations-expect-remote-workers-to-be-a-data-breach-vector