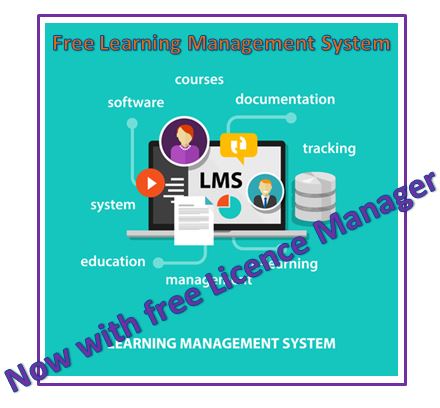 eLearning Marketplace has for many years offered all their customers free private use of the Online Training Academy, their Learning Management System (LMS), to track, manage and evidence staff training. Many businesses, charities and educational organisations are benefiting from LMS functionality for free, something that normally comes at a considerable cost, with the added advantage of access to over 1,000 online courses for all their professional development and educational needs.
eLearning Marketplace is delighted to announce the launch of their Licence Manager app offered free to all customers using the Online Training Academy. The combined features of the Licence Manager and Online Training Academy enable customers to:
Manage:

Allocated course licences
Unallocated course licences
Licences available for transfer
Learners using course licences
Private groups
Group members
Courses in your company catalogue

Track:

Learners who haven't started their training
Learners' progress
Learners' achievement

Learner communication:

Send training reminders to learners
Send login detail reminders

Request:

Courses to be added to your company catalogue
Quotes for licences

Automation:

Invoices for agreed quotes
Licences added to your unallocated course licences
Learner enrolments

Reports:

Available licences
Learner enrolments
Learner progress
Learner scores
Learner achievement
Automate reports to be sent to specific individuals
In addition functionality includes:
To help managers ensure their staff are up to date with compliance training and that the business or organisation meets its legal obligations managers can:

Run reports on learners compliance status
Set compliance dates for compliance renewals
Automate learner enrolments to meet compliance requirements

Upload evidence of external training or CPD activities to learners training records
Create and manage blended learning courses
Utilise gamification.
All the above are offered free to customers not only saving them thousands of pounds but also the convenience of access to around 1,500 courses from over 100 e-learning publishers.
Discovery Multi Academy Trust uses the Licence Manager
"As a Manager, I have found huge benefits from using the License Manager that is quick and easy to get quotations, provides the facility to allocate courses whilst keeping track of individuals learning journey alongside so many other attributes that assist in managing learners.
Elearning Marketplace now plays a huge role in the provision for training that will only grow with time as the Academy expands further and would recommend all companies to take advantage of this online training provider."
Leslie Rust, Facilities & ICT Manager
For further information contact [email protected] or phone 01488 580017.