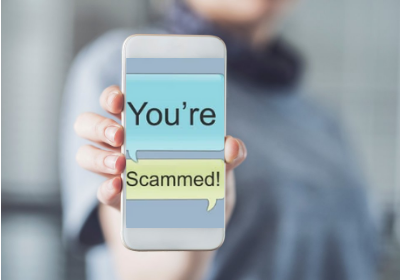 "SMSHING", "SMISHING", or "SMS phishing" are terms used to describe the action of fraudsters sending text messages to mobile phones. Their aim is to get the phone user to click on a link and then either give away their private data or download malicious software. SMShing is on the increase and at this time of year people are particularly vulnerable to clicking on a link that looks like it's come from a courier delivering a parcel.
We are so used to trusting text messages, which historically have come from friends and family, that we often don't think twice about clicking on links that are in messages. In a BBC report today, it states that 98% of phone users read a text message within three minutes, so for businesses and scammers texting is a brilliant way to get our attention quickly. No surprise then that recently there has been a significant rise in businesses using text messaging for marketing and courier companies are very successfully using text messaging to keep us informed of deliveries. However, it is because of this that criminals are increasingly using SMS messaging for scams. In the first 6 months of this year the UK Finance Crime Unit prevented £85million worth of SMS fraud, so we can see it's big business for the fraudsters.
At this time of year we must all be extra vigilant to read our text messages carefully, particularly those that appear to come from couriers. If in doubt go to the couriers website instead of using a link in a text message. It is expected that over a million scam texts will be sent this week in just the UK, and a high proportion will be about parcel deliveries. But, this is actually a year round problem.
SMSHING criminals are going to extraordinary lengths to impersonate legitimate senders, making fake messages seem very real. However, these texts are very dangerous, housing potentially malicious links that can be hard for any of us to spot.
If you'd like to learn more about SMSHING then take a look at our 30 minute SMSHING online course for only £8.40. You'll learn how to identify suspicious red flags, what to do about malicious text messages and much more. Select the button to find out more.
Sources:
https://www.bbc.co.uk/news/business-59760326
https://www.elearningmarketplace.co.uk/product/smshing/