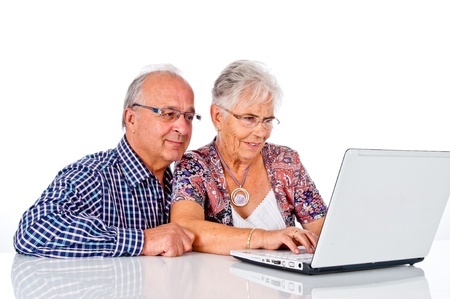 With widespread fall in fertility rates and significant rises in life expectancy, the median age of Britain's population is rising. Today, for the first time in history, Britain's over-65s now outnumber people under the age of 16. This ageing population trend is being made worse by the inevitable retirement of the so-called 'baby boom generation' over the coming decades.*
As people live longer one of the many challenges they face is how to remain both physically and mentally active. Many studies suggest that people who lead intellectually stimulating lives are more likely to be free of dementia conditions like Alzheimer's disease. Retirement today can last for many years and through e-learning this significant group of people have more and more opportunity to challenge their minds by learning for pleasure, or even reskilling for a less demanding but enjoyable part time job.
Reasons why e-learning is so important to the ageing population:
Simplicity – Learning on line is accessible for all without needing complicated computer skills. Once the subject is chosen, it is simple to download an eBook to read or to purchase and take part in an interactive online course.

Fun – Learning a new subject for pleasure or work gives a sense of achievement. Many of the online courses make use of colourful visuals and include interactive quizzes and games which make the learning process rewarding and enjoyable.

Accessible – e-learning allows people to learn from home via any computer, tablet or mobile phone. For the older generation, especially those who find it more challenging to get around, to be able to learn from the comfort of your own surroundings is extremely beneficial.

Range of subjects available – The scope of courses available is extensive and growing all the time. There are leisure subjects such as photography, curtain making and dog training; computer skills covering both basic and advanced skills together with numerous language based courses to name a few.

No Time Restrictions – Once the subject is chosen and the learning purchased it's up to the learner when they start their chosen e-learning, whether an e-book or online course. With online courses usually providing you with 6 months to a year's access learners can take up the course as and when they feel ready, and dip in and out as it suits them.

Affordable – with no requirement to travel to a designated venue, and no cost for a face to face trainer the purchase cost of digital learning is kept low and affordable. For many people struggling to survive on a pension watching spend is extremely important.

Exercises the mind – recent evidence shows that challenging the mind has significant health benefits helping to prolong the quality of life and fight the onset of illnesses such as Alzheimer's and dementia. Continuing the learning process after retirement is extremely beneficial.

Accessibility – As people grow older and live longer, mobility can become increasingly difficult. In some rural areas access to convenient public transport can be limited, and at times can be restricted due to adverse weather. E-learning is unaffected by this and brings learning to a global audience.

Sadly, an ageing population has led to an increase in loneliness. Through e-learning the participant can become part of an active, enquiring community through which to build and maintain new friendships.
Author: Sonya Donohoe, Elearning Marketplace
*Royal Geographic Society