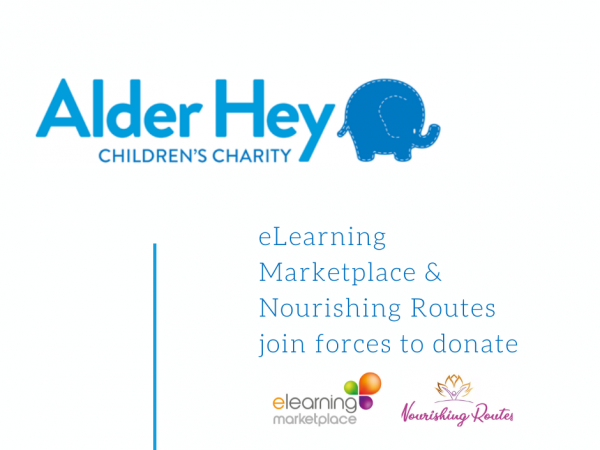 During September eLearning Marketplace has teamed up with one of our course partners, Nourishing Routes, to donate all proceeds from their two fantastic eating disorder online courses to Alder Hey Children's Charity.
Alder Hey Children's Charity raises vital funds to help make Alder Hey Children's Hospital a world class, patient friendly hospital for 330,000 patients and their families each year. The money raised so far has provided life-saving medical equipment and facililties. More recently the charity has raised a Mental Health Appeal reponding to the demand for support for children and young adults. The charity highlighted that 70% of young people with a mental health condition are curently missing out on vital mental health interventions at a sufficiently early age.
Marissa Pendlbury, author of the Nourishing Routes eating disorder courses, has a strong affinity with the charity having overcome her own 10-year journey battling with mental health issues. More recently she has worked at Alder Hey hospital and her support for the charity developed.
During September we will donate all proceeds from the sale of the two Nourishing Routes eating disorder recovery courses to Alder Hey Children's Charity.
Eating Disorder Recovery: Mental Health Compassioneer Academy – CPD Certified:
This Mental Health Academy is also known as The Nourishing Routes Academy, a unique, empowering and cost-effective solutions to the astronomical impacts associated with disordered eating, chronic dieting and poor body image. The key aim of the Academy is to Love Yourself from the Inside Out, while breaking free from any form of disordered eating and finding full freedom with your mind, body and heart.
Eating Disorder Recovery – CPD Certified:
This CPD Certified weight gain e-guide and workbook avidly covers all the essential topics regarding eating disorder recovery, and stems from Marissa's own personal experience of a full recovery from anorexia nervosa, as well as a decade of studying and researching psychology, nutrition, health and holistic wellness.